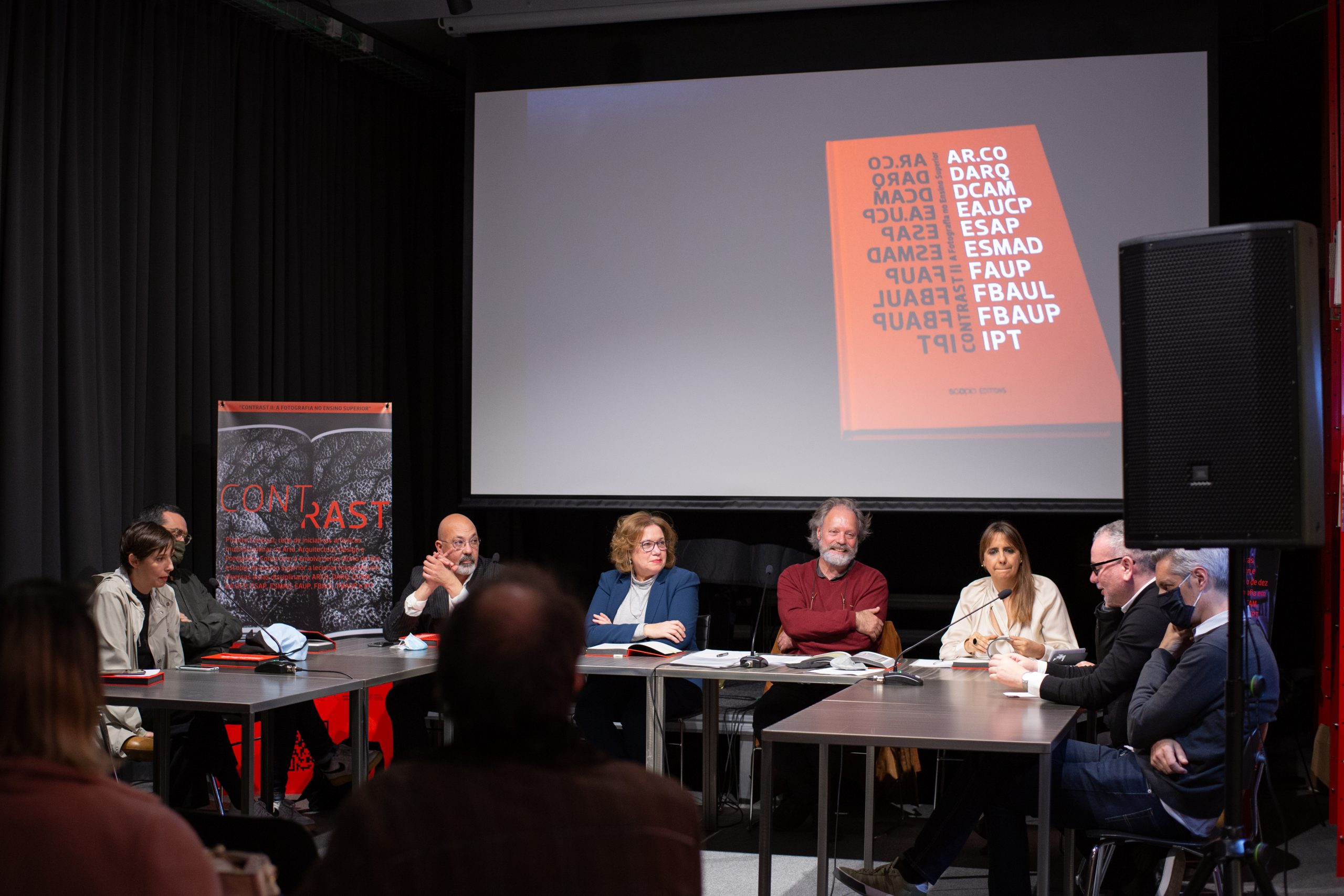 SUMMARY OF THE CONTRAST PUBLICATION PRESENTATION SESSION
MARCH 28TH, 2022 (MONDAY), 6:30PM | COMMON HOUSE – RECTORY OF THE U. PORTO
The Casa Comum – Reitoria U. Porto – hosted on March 28th, at 6:30pm, another launching and presentation session of the publication CONTRAST II: PHOTOGRAPHY IN HIGHER EDUCATION.
The event was attended by Delfim Sardo (Professor, Curator and Essayist) who was in charge of the book's presentation, having then given the floor to Raquel Paulino (Director of MIArq – FAUP) who in her speech highlighted the opportunity of the publication and the place of photography in Architecture education. Soon after, Olívia Marques da Silva (uniMAD/ESMAD/IPP) and Pedro Leão Neto (FAUP), editorial coordinators of the publication, then began the debate period.
The debate counted with the presence of several Editors representing many of the Teaching Institutions that integrate this publication, namely José Maças de Carvalho (DARQ), Victor dos Reis (FBAUL), Luís Filipe Ribeiro (ESMAD), Rui Lourosa (ESAP), Susana Lourenço Marques (FBAUP) and Carlos Lobo (EA.UCP).
The debate allowed for joint reflection around several themes, namely the importance of the teaching and practice of photography in Portuguese higher education schools of art, design, architecture and artistic studies, providing a deeper understanding of the universe of photography. It was thus possible, from the publication, to talk in a critical and exploratory way about several strategies for the teaching of photography, trying to understand how these can generate bridges between the several disciplinary areas where photography is present.
Soon we will have a more extensive report of the event that was covered by the Communication and Image team of the U. Porto.

ABOUT CONTRAST
The CONTRAST project has the consolidated experience of ten higher education schools teaching photography in various disciplinary and artistic areas: ARCO, DARQ, DCAM, EA.UCP, ESAP, ESMAD, FAUP, FBAUL, FBAUP and IPT. Through several projects, research and initiatives, as well as Cityscopio's editorial experience, he ensures a strong integrated and complementary strategy of teaching, research and communication on photography, namely through the organization of conferences, debates, exhibitions, projects, courses/workshops and book publications that expand photography to other disciplinary areas.
The project was selected for funding in the DGARTES' contest to support creation and editing projects.

COORDINATION
The project has a joint coordination in partnership with the Cultural Association Cityscopio, ESMAD-uniMAD and FBAUP – i2ADS, being led by FAUP through the research group Architecture, Art and Image (AAI) integrated in the Center for the Study of Architecture and Urbanism (CEAU).

SUPPORT
The project was selected for funding in the DGARTES' contest to support projects of creation and edition, through the Cityscopio Cultural Association, with joint coordination between ESMAD-uniMAD and FBAUP – i2ADS, and led by FAUP.