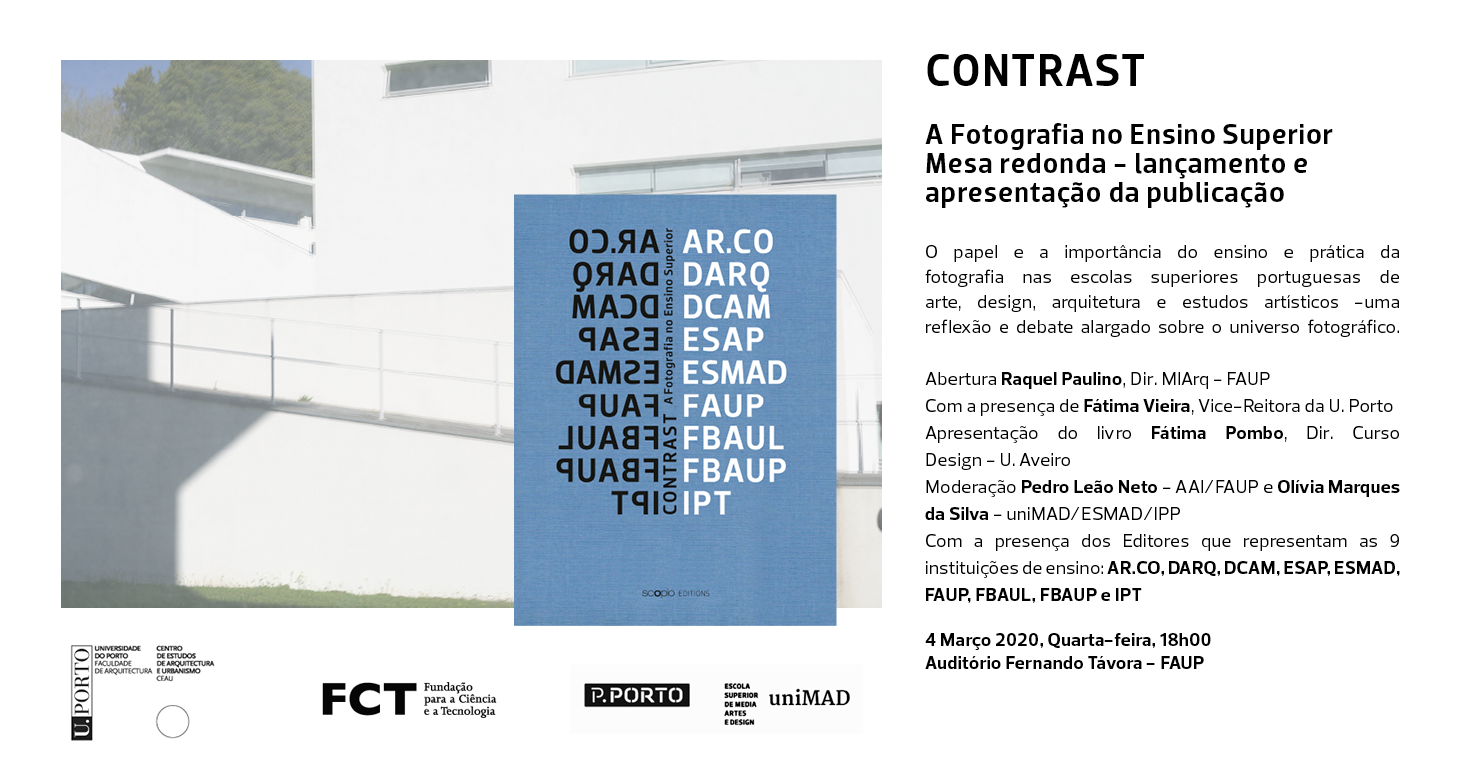 ROUND TABLE LAUNCHING AND PRESENTATION OF THE PUBLICATION "CONTRAST: PHOTOGRAPHY IN HIGHER EDUCATION"
MARCH 4TH, 2020 (WEDNESDAY), 6:00PM | FERNANDO TÁVORA AUDITORIUM – FAUP
FAUP will host on March 4, at 6 p.m., another session integrated in the program of the cycle of Conferences and Debates Architecture, Art and Image (AAI): the round table for the launch and presentation of the publication "CONTRAST: Photography in Higher Education".

The event will be attended by Fátima Vieira, Vice-Rector of U. Porto (Culture, Museums and U.Porto Edições) and the table will be opened by Raquel Paulino, Director of MIArq – FAUP. The book will be presented by Fátima Pombo, Director of the Design Course of the U. Aveiro and the debate that follows will be moderated by Pedro Leão Neto (FAUP) and Olívia Marques da Silva (uniMAD/ESMAD /IPP), Editorial coordinators. This launching will also count with the presence of the Editors representing the 9 educational institutions that integrate this publication: AR.CO, DARQ, DCAM, ESAP, ESMAD, FAUP, FBAUL, FBAUP and IPT.
The purpose of this round table is to discuss the role and importance of the teaching and practice of photography in Portuguese higher education schools of art, design, architecture and artistic studies, as well as to enable a deeper understanding of the photographic universe. At this moment, there is a version of the publication for viewing, available online in video support HERE.
It is intended that CONTRAST may be the motto and an instrument to reflect on various strategies for teaching photography in order to understand not only how it can create bridges between the various disciplinary areas where photography is present, but also how it can help rethink the real.
Support for dissemination: AR.CO, DARQ, DCAM, ESAP, ESMAD, FBAUL, FBAUP, IPT. Marques da Silva Foundation and Northern Regional Section of the Order of Architects (OASRN).

SCOPIONETWORK

CCRE RESEARCH GROUP (CEAU-FAUP)

SOPHIA JOURNAL

AAi2: Arquitectura, Arte, Imagem & Inovação Lab

ABOUT CONTRAST
The publication CONTRAST is the result of a partnership established between CCRE/CEAU/FAUP and ESMAD / uniMAD, and gives continuity and a new dimension to the section with the same name, which had been published in the international photography magazine scopio Magazine. One of the main objectives of CONTRAST is to bring together a diverse set of texts of reflection and critical analysis on photographic projects carried out in a teaching and research context, representative of the main institutions of Portuguese higher education linked to the teaching of photography and also integrating curricular units in which photography appears within other disciplinary areas, such as Architecture, Design, Multimedia, Artistic Studies, among others.
This new publication, with its own ISSN, thus offers a wide range of texts written by teachers and researchers about their pedagogical strategies and discussing a selection of photographic projects developed by students from each institution or curricular unit. Given the inexistence of a publication with these characteristics, we believe that this editorial project fills an important gap in the universe of photography teaching in Portugal.  Thus, CONTRAST intends to contribute to the development and dissemination of photography as an area of knowledge. We believe that this publication will enable a better perception of the different educational systems and objectives around photography in the context of higher education in Portugal, as well as of its results. For all these reasons, we believe that CONTRAST will help to create synergies between several photography schools and to bring a greater visibility to these institutions as well as to the projects of their finalist students, promoting them at a national and international level.
CONTRAST thus evolves as an independent space, integrating several editors linked to the teaching of photography, and namely nine educational institutions:
DARQ – DEPARTAMENTO DE ARQUITECTURA – FACULDADE DE CIÊNCIAS E TECNOLOGIA – UNIVERSIDADE DE COIMBRA
José Maças de Carvalho
DCAM – DEPARTAMENTO DE CINEMA E ARTES DOS MEDIA – ESCOLA DE COMUNICAÇÃO, ARQUITETURA, ARTES E TECNOLOGIAS DA INFORMAÇÃO – UNIVERSIDADE LUSÓFONA DE HUMANIDADES E TECNOLOGIAS – LISBOA
Virgílio Azevedo
ESAP – ESCOLA SUPERIOR DE ARTES DO PORTO
Eduarda Neves
Maria Covadonga Barreiro
Nuno Faleiro Rodrigues
ESMAD | ESCOLA SUPERIOR DE MEDIA, ARTES E DESIGN – P.PORTO – VILA DO CONDE
Olívia Marques da Silva
Luís Ribeiro
Cesário Alves
FAUP – FACULDADE DE ARQUITECTURA DA UNIVERSIDADE DO PORTO
Pedro Leão Neto
FBAUL – FACULDADE DE BELAS ARTES DA UNIVERSIDADE DE LISBOA
Victor dos Reis
Rogério Taveira
FBAUP FACULDADE DE BELAS ARTES DA UNIVERSIDADE DO PORTO
Susana Lourenço Marques
José Carneiro
IPT – INSTITUTO POLITÉCNICO DE TOMAR
António Martiniano Ventura
Alexandre de Magalhães
4 DE MARÇO DE 2020 (QUARTA-FEIRA), 18H00 | AUDITÓRIO FERNANDO TÁVORA - FAUP