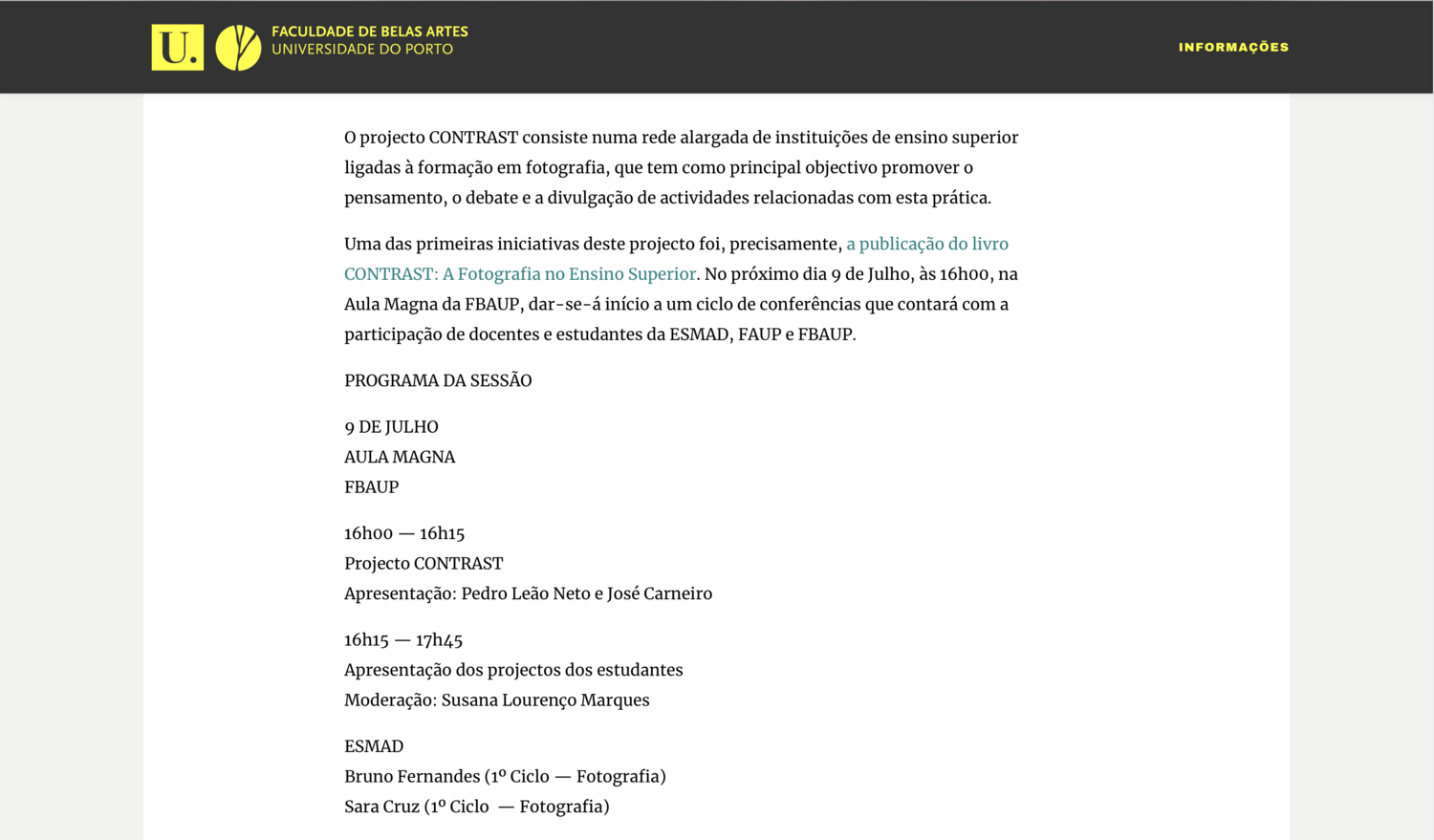 FBAUP ANNOUNCES CONTRAST SESSION
CONFERENCE | CLASS
CONFERENCE CYCLE THAT WILL COUNT WITH THE PARTICIPATION OF TEACHERS AND STUDENTS FROM ESMAD, FAUP AND FBAUP.
JULY 9, 2021, 4:00 PM, MASTER CLASS
The CONTRAST project consists of a broad network of higher education institutions connected to photography training, with the main objective of promoting thought, debate and dissemination of activities related to this practice.
One of the first initiatives of this project was, precisely, the publication of the book CONTRAST: Photography in Higher Education. لعبة البوكر Next July 9th, at 16h00, in the Aula Magna of the FBAUP, will begin a cycle of conferences that will count with the participation of teachers and students from ESMAD, FAUP and FBAUP. بينجو العاب
SESSION PROGRAM
JULY 9
MASTER CLASS
FBAUP
16h00 — 16h15
CONTRAST Project
Presentation: Pedro Leão Neto e José Carneiro
16h15 — 17h45
Presentation of the students' projects
Moderator: Susana Lourenço Marques
ESMAD
Bruno Fernandes (1º Ciclo — Fotografia)
Sara Cruz (1º Ciclo — Fotografia)
FAUP
Ana Andrade (1º ciclo — F – CAAD)
Joana Mariano Santos (2º Ciclo — FACT)
FBAUP
Catarina Braga — (2º Ciclo — Artes Plásticas)
Francisco Varela — (2º Ciclo — Estudos de Arte)
17H45 — 18h30
Question and answer session
Teachers
Pedro Leão Neto
José Carneiro
Susana Lourenço Marques
João Leal
Luís Filipe Ribeiro.