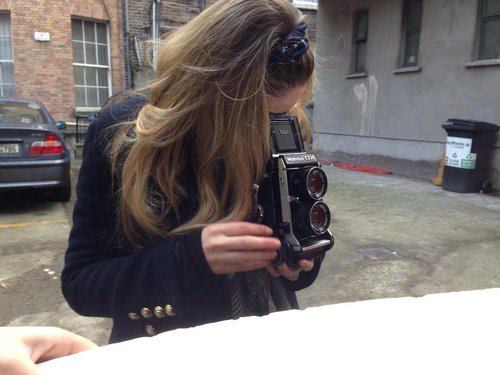 INTERVIEW WITH KELLY MCERLEAN (DIRECTOR OF NATIONAL MEDIA COLLEGE, DUBLIN)
PN: Tell us about your background, where and when did you study photography, who were your teachers, who influenced you the most?
KM: My photography tutor was called John Hodgett from Bourneville College, Birmingham, UK. At 22yrs, I was working as a Software Engineer at a UK Ministry of Defence site. I decided to change career and study photography, then film production. I was always interested in films and thought that becoming a proficient photographer would be a goodway to start in that profession. لعب بوكر حقيقي Then I fell in love woth photography and work in both fields.
PN: What was your first teaching experience? What directed you towards a teaching career?
KM: I started teaching part-time photography at a school in Dublin in the 90's. The classes went well so I was promoted to full-time. I have always enjoyed teaching. It's very rewarding.
PN: As this interview series focuses on photographers / artist /educators and their photography schools and teaching experience at your institution? Can you discuss the challenges and your role as a teacher of photography?
KM: It is challenging to unravel a students' pre-conceived opinions as to what photography is. There is a strong element of trust needed between the tutor and student. They must believe that you know what you are doing and that you know how much they can learn in each lesson. We ask students to 'engage' with the spirit of the course. We also ask them to focus on critical analysis and lateral thinking. The photographic skills will come with practice, but critical analysis and lateral thinking abilities take perseverance.
PN: You divide your time between the teaching, research and your professional and artistic work. How do you manage it? How is it possible to share these aspects of professional and artistic practice in teaching and with student careers?
KM: It is helpful to move between commercial and creative projects. Discussing commercial projects with students helps them to understand the reality of professional practice. Creative projects remind them why they wanted to study photography in the first place.
PN: What about your professional and artistic paths, and photographic research? Tell us about your main interests and what are you working on now? Any ideas for the future?
KM: I am working on 2 photobooks and a short film.The books are called 'New York is Purple' and 'Americana. "New York is Purple' are images I shot in NY during the heatwave and impending financial meltdown of July 2011. Purple is the colour of change, it signifies importance, I had the same feeling about New York. People are tough but there is also a strong feeling of community. لعب البوكر I can send you a rough draft if you would like to see it.
'Americana' is a series of images of San Francisco in 1999. The short film is called 'Singularitas.'
PN: What are your inspirations in terms of books and photographers that you have loved the most? Do you have a book or photographer that recently interested you?
KM: Tony Ray Jones. I saw his exhibition in Bradford recently. Also, I am reading the work of Georges Perec and I am interested in photographing what he described as the 'infra-ordinary.'
PN: You took part in many exhibitions. Any particular advice for young photographers aspiring to display and exhibit their work without drowning in the ocean of images in which we daily swim?
KM: Always photograph with the 'intention to make a statement.'
PN: With rapid and continuous technological change those who want to pursue a creative career must always be updated. In addition, the vast competition requires more skills to young people entering the labor market. What are the tips and suggestions you have for the younger generation?
KM: Keep an eye on new technologies and their application in industry. Employers want new ideas, not old ones.
PN: What's your opinion about the Irish photography panorama? What about the International panorama?
KM:There is a major photofestival each year here in Dublin. As I was originally trained in the UK I gravitate towards UK photographic practice and style.
PN: Are the new technologies useful vehicles for the dissemination and the promotion of the photographers work?
KM: Yes definately. Students should read all the technology sites like TechCrunch to be aware of what new technologies are coming.
PN: What is the importance of online specialist magazines such as, for example, Lens Culture, Portfolio, Source, Aperture and the influence of these being a source of an amazing volume of work from around the globe.
KM: Very important. Critical analysis creates better work. Foam magazine is one of the best. كازينو أون نت